Eat a rainbow every day for optimal health!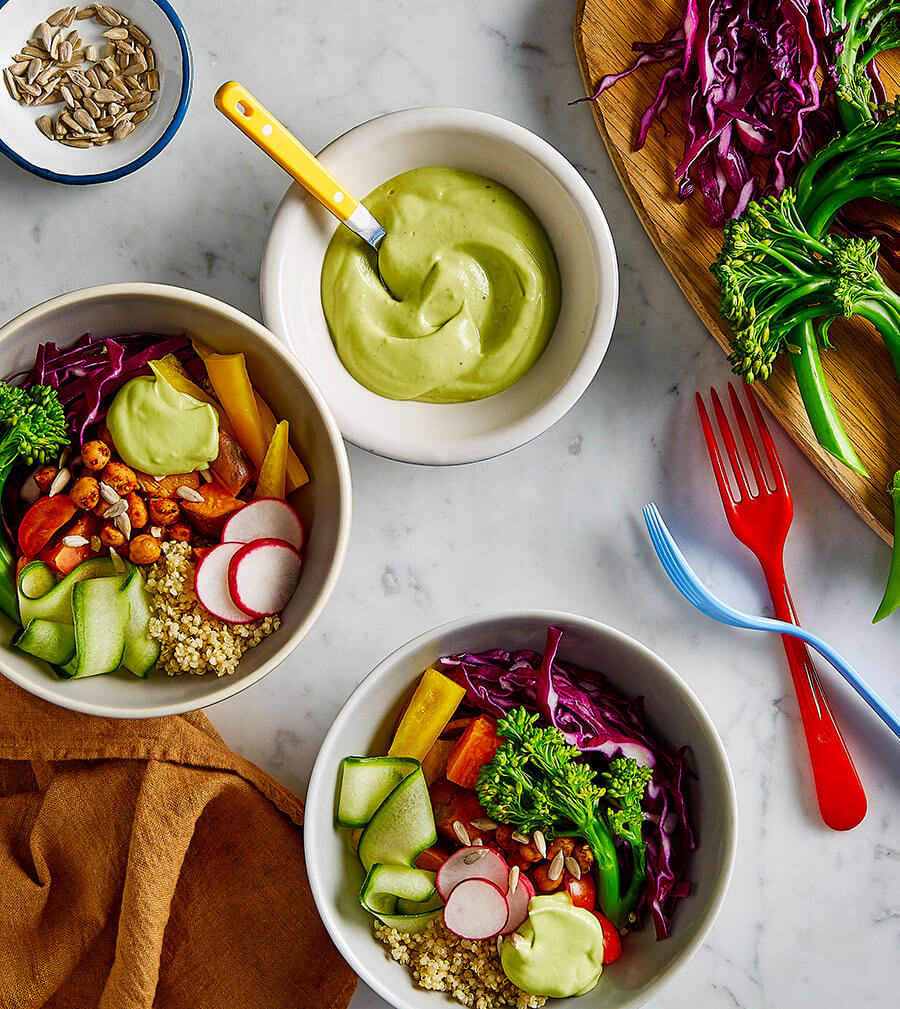 Ingredients:
1 sweet potato
1 broccoli
1 yellow capsicum
1 cucumber
1 punnet cherry tomatoes
¼ purple cabbage
1 cup cooked quinoa. We love the white quinoa from Community Co
¼ cup Community Co sunflower seeds
For the roasted chickpeas:
1 can chickpeas
½ tablespoon olive oil
½ teaspoon sweet paprika
½ teaspoon garlic powder
½ teaspoon dried oregano
¼ teaspoon salt
For the dressing:
1 ripe medium avocado
1 tbsp lemon juice
¼ cup yoghurt
¼ cup water
How to make it:
Preheat oven to 220C.
Drain and rinse chickpeas. Set aside to dry off.
Wash off any dirt and chop sweet potato into small cubes. You can leave the skin on – it packs the most nutrients! Cut broccoli into small florets. Place sweet potato and broccoli onto a baking tray lined with baking paper. Toss with 1 tsp. of olive oil and a pinch of salt and pepper. Set aside.
In a bowl, the kids can combine the chickpeas with olive oil, paprika, garlic powder, oregano and salt.
Place onto the baking tray. Bake for 25 mins, tossing half way through.
Make quinoa according to the instructions on the packet.
Chop cucumber, capsicum, cabbage and tomatoes.
To make the dressing, all you have to do is add the ingredients into a food processor and pulse until smooth.
Now the kids can assemble their bowls! Start with a scoop of quinoa at the bottom for a base. Then, top with the veggie, a swirl of the dressing and a sprinkle of sunflower seeds!